The typical telephone call to the nearest Rolex retailer is usually answered by a very polite and professional retail assistant with a "I am afraid that the waiting list for this model (substitute any model in very short supply and high desire) is around five years long".
But how did this situation come to be? What happened in the distribution model of Rolex to cause this whole issue? Was it always like that? Can it be avoided?
To answer these questions, we need to understand a bit more about the distribution system of the whole sector before being able to comment on it.
So, bear with us with this somewhat long marketing excursion - it will be enlightening, we promise.
A Market Overview of the High-End Watch Niche
Watches have always been a peculiar business, and companies manufacturing them have always been extremely tight-lipped. So, it is still very difficult to extrapolate data about production and sales, but this research is necessary to better understand the current watch market, especially in this particular niche which lies between the high-end and the true luxury.
Rolex, along with every other high-end watch manufacturer, is quite secretive about its data and does not disclose its yearly production, but the horology experts estimate it in the range of around one million units per year.
Let this number seep in. At the same time, the same observers estimate that the production of other industry power players of a comparable level and price range averages for 850,000 watches a year for Omega, one million for Longines, 750,000 for TAG Heuer, and finally, Cartier, with about 500,000 pieces. The other manufacturers in the luxury space are wildly dispersed, being in the 100,000-something range or lower, except for Tissot, which has a production of around 3.5 million units, but also, a much lower price point.
What do these numbers mean?
The first conclusion we can make is that the Rolex manufacturing process is purely industrial. Or, as some used to muse, "hand-made industrial". This also means that the company probably has the means to tighten or loosen its production quantities in a flexible manner, much more than the true luxury manufacturers, whose production depends heavily on the work of skilled laborers.
But what is really amazing is that the annual sales of the Rolex brand, estimated in the range of $5 billion dollars a year, dwarf almost everyone else's. To this number, we should also add the results of Rolex's little brother, Tudor, which actually accounts for another 5 to 8% more revenue. It is a powerhouse.
The closest competitors are Cartier, the flagship of the Richemont Group, with estimated sales of $7.4 billion dollars a year, but it has to be noted that a sizable part of these results come from jewelry, and not watches: Cartier time-pieces account for around $2 billion in revenue. And then, we see Omega, belonging to the Swatch Group, which sees similar annual returns.
If we have a Holy Trinity in watches, we could christen this dynamic trio as the "Three Wise Kings", bringing gold, frankincense, and myrrh - which were very precious gifts back then. So, they must have been some very rich individuals - as our watchmakers truly are.
But what kind of gifts do they bring to men? Let's zero in and focus on the distribution system of Balthazar - ehm, Rolex.
Boutiques and Monobrands: The Supply Chain
If you think it's difficult to find stats about the production and earnings, figuring out the supply chain is almost like quantum physics. Every company has its own rules, and they usually vary by geographical locations and on a case-by-case basis.
And so, I will be referring to my main undercover source of information - my almost mythical watchmaker.
Speaking in very broad terms, you have two main kinds of stores in the Rolex distribution system: the traditional multi-brand store, and the newer mono-brand store.
These stores are generally owned by independent entrepreneurs, but some, like the most recent mono-brand retailers which have cropped up in the major Rolex markets, especially in the East, are owned directly by the company, or by a sort of joint-venture between the company and an established retailer in the area.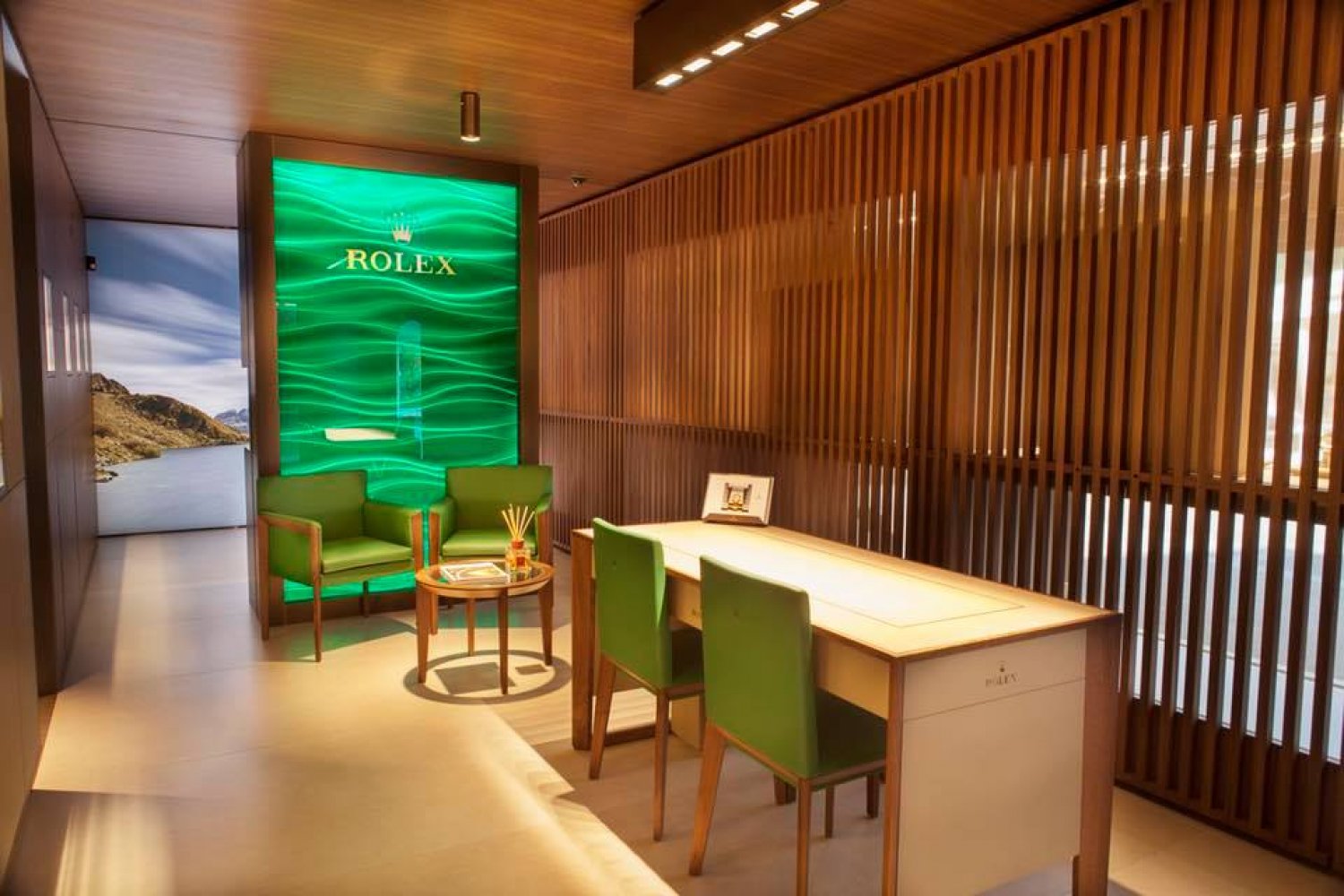 What Rolex end customers do not really know is that the Rolex distribution model is very strict. These retailers cannot buy all the models they want in the quantities they need. If they want a particular watch reference, they need to buy a "package", which includes that specific reference plus some others that are - let's say - less sought after by the general public, and more difficult to sell.
Let's use an example. If you want a Rolex Submariner Hulk in steel for your store, you would also have to buy a few other references in steel/gold (which nowadays are not so appreciated by the market) as well as in gold. The effect is that you would - as a retailer - be selling the steel Hulk outright, no effort at all, but end up having to stock three other models that are much more difficult to place, and that you have already paid for in cold, hard cash.
As a note, the average markup of a luxury item by a store hovers around the 100% mark. That is, stores sell to the public at around double the price that they pay.
Ouch.
Considering all of this, it is fairly easy to understand the implications of this selling model on the market, which perfectly explains the current situation.
- The supply of some model references is very limited because it is difficult for a store owner to sell the other members of the "package". Usually, you tend to place the other watches first and then the "jewel" of the crown, the reason you bought the package, goes by itself next. When it is done, you start all over again with another package;
- It is next to impossible that a casual buyer wanders into a store and gets a sought-after piece in no time. Store owners favor their longstanding clients, and when a particular watch becomes available, they are the customers that are immediately called and asked if they want one;
- More often than not, stores sales teams practice upselling, to get rid of the less wanted members of a package. If you are waiting for a particular model, you might get offered "a good deal" on a less popular timepiece - and as you are in for a years-long wait for the exact style you want, you might as well cave-in to the offer and accept. This would also mean that you are not placed very high on that particular store's value chain, but it's up to you to take the second (or third) best option to get your damn Rolex now and not in five years time;
- Sometimes retailers sell their precious wares at list price, and also (as it has been told to me in an unofficial manner and in almost hushed tones) for a few of the more unscrupulous ones, at somewhat more than the list price, as it is rather self-evident that the current market evaluation of a base Submariner model in steel is around two times the list price. Forget getting them at a discount - unless you have already bought half of the store;
- A side effect of this is that Rolex closely monitors the serial numbers of the watches and their buyers, so if one model is sold right after it is bought for a profit, and the company notices, it is extremely unlikely that this particular buyer would be able to find another Rolex at list price, ever. If there is a Rolex list, there is definitely a Rolex blacklist.
As you can see, it gets extremely quirky for the typical Rolex aficionado to get a simple, sought-after watch, even if you are on a waiting list for a long time. After all, you cannot be there picketing the store and checking who gets what.
Also, experience tells us that that Rolex applies a 5% increase in its price lists annually. Considering this, you might as well think about getting a different watch reference, or buying the one you want at a premium instead of waiting five years and paying a list price that has already grown by about 30%.
More so, if you are like any other watch fan, you are bound to notice that the value of the most prized models in the second-wrist market is usually very high, while even the less desirable ones are not faring that bad either, always retaining their value.
Is This "Bubble" Going to Burst? Where is Rolex Heading?
This was another of the questions we posed to our expert - and his answer was a resolute "not for now". We see little risk for the company with their current distribution model.
With the cautious and deliberate stride that distinguishes it, Rolex is continuing to shift its positioning by surgically lifting it upwards, slowly but surely. It is not a novelty that the company is slowly introducing new references, especially in the Cellini line, which is getting richer and more comprised of complicated dressy watches - and it is rumored that another one in the style of the SkyDweller is in the making.
But this progression is fueled by the continuous and meticulous research of the best-selling references and carefully "packaging" them into offers that distributors cannot refuse. While this distribution model fills frustrated would-be Rolex owners with grief, the company continues to apply it without remorse, especially since the demand for some Rolex references is at a historical high.
And the situation has worsened since around 2010, creating this "bubble" effect which is hitting the market for some of the most sought-after models.
Could this situation hurt Rolex in the long run? Hardly likely.
Everyone seems to profit from this situation, except the would-be buyers - which are not exactly showing signs of abandoning the company in favor of other more available choices. Possibly because of the social recognition that comes by owning a watch with a brand like Rolex, which is the first pure watch brand inserted into Forbes' Most Valuable Brands list.
What Are the Most Sought After Rolex Models in 2019?
It won't come as a surprise that the most valued Rolex models are right now the stainless steel references of three iconic models - that is, the Submariner, the GMT Master, and the Daytona.
And within them, we find some models which represent the modern "Holy Grail" for Rolex aficionados. Let's take a look at them.
Rolex GMT Master II "Pepsi" - ref. 126710BLRO
[caption id="" align="aligncenter" width="325"]
The Rolex GMT-Master II - 126710BLRO[/caption]

While the Rolex GMT Master II is one of the most well-known Rolex models, as it came from the 1960s, its "Pepsi" flavor, with its distinguishing bright red and blue bezel, has always been one of the best-received variations.
So, it was not a huge surprise that when it was relaunched, featuring a ceramic bezel, in Baselworld 2018, with a stainless steel version featuring a Jubilee bracelet.
While not overly innovative, the demand by the fan base soared to almost impossible heights, reaching an appalling ten years estimated waiting time: so long that you cannot order it anymore.
Rolex Cosmograph Daytona - ref. 116500LN
[caption id="" align="aligncenter" width="325"]
The Rolex Cosmograph Daytona - 116500LN[/caption]
The fame of the Rolex Cosmograph Daytona is almost without equal.
Part of it comes from the legendary Paul Newman's personal Daytona, which recently sold at auction for $17 million dollars, making it the most expensive watch sale in history. But the present-day Daytona, with its signature black and white tricompax dial, is equally coveted by Rolex admirers - so much so that a second-wrist Daytona can be easily sold for double list price, and the retailer wait-list for one can reach the ten-year mark.
Rolex Submariner Date "Hulk" - ref. 116610LV
[caption id="" align="aligncenter" width="342"]
The Rolex Submariner Date "Hulk" - 116610LV[/caption]
As you all know, there are several variations of the Rolex Submariner, but the Hulk - that is, this lovely green beast - is one of the most appreciated by the public, and as such, one of the most requested (and often, subject to imitation).
Its merits are not only aesthetic, as a Submariner is a beautiful timekeeping instrument, very rugged, and extremely precise. And while not being worn today for its original function, that is, being a divers' watch, the Hulk, with its beautiful green dial and bezel, finds itself pretty at ease in every occasion, from the most casual to the most formal. Also, it is always in short supply, and its values in the second-wrist market are always well over the list price. Expect a waiting list of three to five years to get one.
Rolex GMT-Master II "Batman" - ref. 116710BLNR
[caption id="" align="aligncenter" width="322"]
The Rolex GMT-Master II "Batman" - 116710BLNR[/caption]
Another superhero for your wrist, the Rolex Batman, with its distinguishing black and blue bezel, has been a bit overshadowed (pardon us the wordplay) by its brighter brother, the Pepsi - but the demand for the Dark Knight watch remains steady, as does its value on the second-wrist market, resulting in a very steady valuation. This also means that you have to factor in a waiting time of around three to four years to snatch one.
Rolex Sky-Dweller - ref. 326934
[caption id="" align="aligncenter" width="325"]
Rolex OYSTER PERPETUAL SKY-DWELLER Blue dial 326934[/caption]
Out of all variations of the Sky-Dweller, this relatively simple stainless steel version has come out as the champion in the sense of price appreciation, demand and difficulty to find.
Rolex Cosmograph Daytona - ref.116508
[caption id="" align="aligncenter" width="396"]
Rolex Cosmograph Daytona - ref.116508[/caption]
They say green is the new blue. Which is probably why the yellow gold Daytona with the green dial is so hard to find in the last few months and it's price growth is a reflection of that demand and lack of supply.
Rolex Sea-Dweller Deepsea - ref. 126660
[caption id="" align="aligncenter" width="364"]
The Rolex Sea-Dweller Deepsea - 126660[/caption]
Another star of the Rolex line is the Rolex Sea-Dweller Deepsea. Debuting at Baselworld 2018, it has wowed audiences with its amazing technical features: a water resistance which borders on the mindboggling, of 3,900 meters. This performance, coupled with the new 3235 movements, one of the brand's latest mechanical creations featuring a slew of advances, have positively motivated the Rolex fans so that the waiting list to fish one of these averages two to three years.
While these models are the tip of the iceberg, the rest of Rolex production is not that accessible either. A simple Submariner with date in steel, the ref. 116610, is expected to need 1 to 3 years on a waiting list, while its no-date version, the ref. 114060, is even more requested, with a waiting list of about 2 to 3 years.
You could fare much better in less requested Rolex models, most of which are immediately available - but this is life. No one ever said it was a cakewalk.
If you're looking to avoid the waitlist and don't mind paying for that speedy service, talk to us about sourcing you the exact model you want at the most competitive price online!