If you don't already know, Drake loves luxury watches. With his estimated earning of 94 million dollars last year, he can afford a few nice timepieces. Let's break down his collection of Richard Mille's, Rolex's, Hublot's, and Patek's to start.
Aubrey Drake Graham, better known as Drake, a Canadian rapper, music producer and entrepreneur is among the most widely acclaimed stars of the music scene of today. 

Hailing from a mixed ethnic background of an African-American father and an Ashkenazi Jewish mother, Drake started his life as an actor. When very young, he played a character in the Canadian teen drama TV series DeGrassi: the next generation.

In an interview, Drake declared that his family was poor, and the money he earned through the series was the only one that came in the home, with his father in jail for drugs and his mother severely ill.
This was also the reason why he dropped out of school, so to concentrate on his work as an actor and preparing himself for the music career.

In 2006 he felt ready, so he released his first mixtape, Room for Improvement, as a purely commercial project - and he sold more than 6,000 copies. It was followed the year after by its second one, Comeback Season, which propelled the budding artist into the right crowd, starting cooperation with Lil Wayne who supported him in several projects until Drake published his third mixtape, So Far Gone, in 2009.

This last work was met with a huge success: hosted on his personal blog, in two hours it received more than 2,000 downloads, so it was re-released as an EP, where the singles "Best I Ever Had" and "Successful" both gained Gold certification by the Recording Industry Association of America (RIAA), and the first also peaking at number two on the Billboard Hot 100. 

The surge of popularity rendered Drake the subject of a bidding war from various labels, often reported as "one of the biggest bidding wars ever". He eventually signed with Lil Wayne's Young Money Entertainment and joined the rest of the label's roster on America's Most Wanted Tour in July 2009.

His first album, Thank Me Later, was released on June 15, 2010. It featured artists such as Lil Wayne, Kanye West and Jay Z, and registered sales of over 447,000 copies in its first week after launch.
It was rather evident that the path to stardom for the young Drake was paved with gold.

He continued his career passing from success to success, both in music and in other activities, and distinguished himself for his attention about social issues, like the rights of the minorities, and charitable drives like what he did after Hurricane Harvey struck the city of Houston, and in Miami, after the debut at no. 1 on the Billboard Hot 100 of his single "God's Plan", where he gifted to assorted local charities the sum of one million dollars that was budgeted to shoot the promotional video.

Apart from his activities in music, Drake also has some ambassadorship deals ongoing, like the one with Apple and the Toronto Raptors. Another enterprise he is involved in is Virginia Black, the brand of a bourbon-based whiskey which started in 2015 and is sold today all over the USA and Europe.

Between other assorted curiosities about him, Drake was no outsider to the world of music, as he comes from a family of musicians. His father was a professional drummer who played also with Jerry Lee Lewis, and his paternal uncles are bass guitarist Larry Graham and lead guitarist and songwriter Teenie Hodges. Graham was a member of the band Sly and the Family Stone, while Hodges in the 1970s played together with Al Green, and was instrumental for his most-known classics.
Drake, who now lives mostly in the USA, even if he owns properties in Toronto, is a single father. He has a two-year-old son named Adonis, born from the relationship with the French artist Sophie Brusseaux. Before this, Drake dated Rihanna for several years.
Drake and his watches
With such a character, it comes as no surprise to find that Drake has some seriously refined tastes.
He has exhibited unconditional love for timepieces, going very public with them in several posts over his Instagram account. And well, let's say that more than love, his horology craving borders on gluttony: Drake just loves beautiful timepieces of every kind and make, and with the monetary means he can muster (last year, Forbes calculated his earnings were around 94 million dollars) he for sure has some pocket change to play with.

Richard Mille
One of the latest watches of Drake - and well, among his most noteworthy, is the one he was caught recently wearing during the series that brought the Toronto Raptors to finish off the two-time defending champion Golden State Warriors in a surprising six-game series. Drake - an ambassador for the Raptors - was wearing some serious bling: a Richard Mille RM 69 Erotic Tourbillon watch, featuring a cool price tag of $750,000.

While everyone knows that Richard Mille is one of the most extreme watch manufacturers in the business, this one possibly represents one of its most extreme interpretations in this particular "field" - let's say.
Beginning from the reference's number, the number 69, this timepiece is ripe of sexual innuendos. The "Erotic" complication - dubbed Oracle - features three multi-faceted rollers that show different statements which combined form phrases like "Let Me Kiss You Tonight", "I Lust To Caress Your Body" as well as others, generated by the user, which are better not to cite in a watch article.
The idea of the watch, according to Richard Mille, is to exalt the timepieces' inherent sexiness and express it in a more literal - and explicit - way. And let's say, the phrases displayed therein leave no doubts.
Apart from its kinky features, the RM 69 is one hell of a timepiece, offering a case that is made of grade 5 titanium and measuring 42mm x 50mm. The movement is wind-up, with a tourbillon, retractable hours and minutes which when the Erotic complication is activated, turn down to reveal the message written on the three rollers. And a power reserve indicator at 4 o'clock, so you can check how much of the 69-hour power reserve is left. Oh, did I say "69"?
But this is not the one and only timepiece from the iconic Swiss watchmaker that he has. Drake owns a Richard Mille lineup of watches that is nothing short of awesome, composed of at least six more references. Might be more, and possibly will be, in the future.
In numerical order, he owns an RM 11 Last Edition Baby Blue Felipe Massa Ceramic Chrono. The iconic bright blue Last Edition of this Richard Mille timepiece is a limited production piece, made in only 50 units. Designed as a tribute to Felipe Massa, the RM 011 FM features a flyback chronograph with a countdown function, along with the hour, minute, and date second functions. The movement, as in several RM timepieces, is skeletonized so to offer a glimpse of its workings behind the black dial while contrasting white numerals provide excellent legibility. The watch secures on the wrist with a blue rubber strap with titanium folding clasp.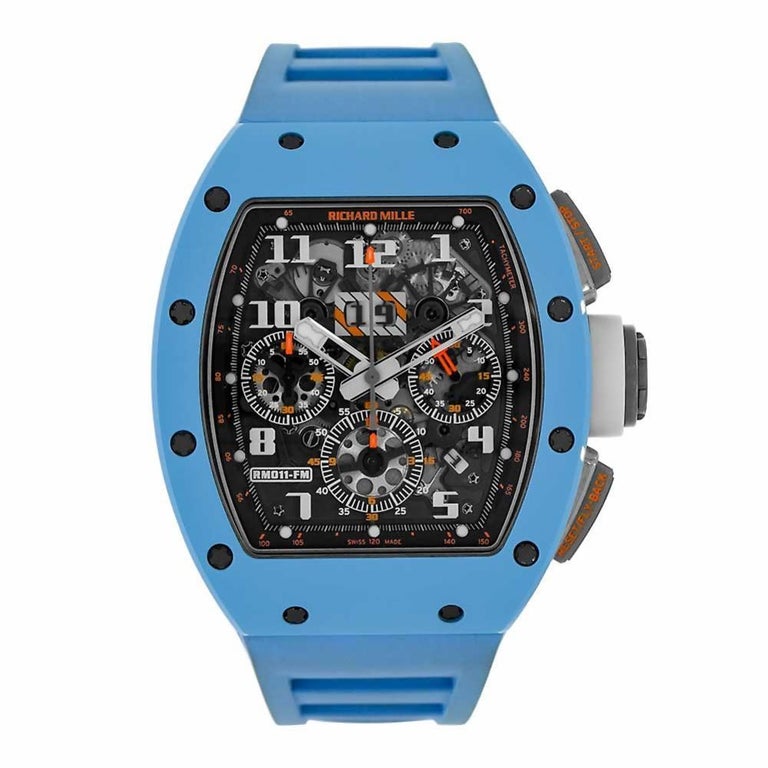 The RM 11-03 in rose gold is an automatic winding Flyback Chronograph - and represents an iconic reference in the Richard Mille offerings. Available in a wide variety of models, the RM11-03 features the usual layered case typical of Richard Mille, held together by 20 splined titanium screws, and protecting a skeletonized movement which shows the beauty of its inside machinery through its sapphire glass and back. Drake wears it on a green wristband, which makes it look far more toy-ish than how it is. But well, it is his watch, isn't it?
Another Richard Mille watch that Drake owns is the RM035 Rafael Nadal Americas Edition. An ultra-light watch, created for the needs of one of the best tennis players in the world, the RM 035 Americas is a special edition available in the Americas only and made in 50 pieces. It is driven by an automatic mechanical caliber weighing only 4.3 grams and wrapped in a case that features advanced technology materials and colorful accents. The front and back bezels are made from black TZP ceramic and blasted for a matte effect. The wristband is crafted from NTPT carbon, composed of multiple layers of woven carbon fibers, rendering it lightweight and extremely sturdy.

Designed for the needs of the professional golfer Bubba Watson, the Richard Mille RM55 Bubba Watson is another amazing timepiece from the watchmaker, featuring a white titanium body and a lightweight but highly resistant movement. Its RMUL2 caliber is a manual winding skeleton movement with a 55 hours power reserve, and offering hours, minutes and seconds.
The movement is highly skeletonized, and literally floats inside the case, being sustained just by four shock absorbers, a technical solution that renders the timepiece almost immune to any kind of shocks.
On the wrist, the Richard Mille RM 055 feels amazing and looks awesome due to its transparency.
And as not everything matches with white, Drake, who is always smartly dressed, got a second one - this one in black and rose gold - with the top layer of the ceramic case dotted with diamonds.
We don't know about his passion for boats, but Drake is also the owner of an RM 60-01 Regatta Flyback Chronograph, the first nautical navigator from Richard Mille. This watch offers the usual Richard Mille looks, even in a round case rather than a tonneau one, and includes a set of navigational features to calculate your position at sea both the Northern and Southern hemispheres.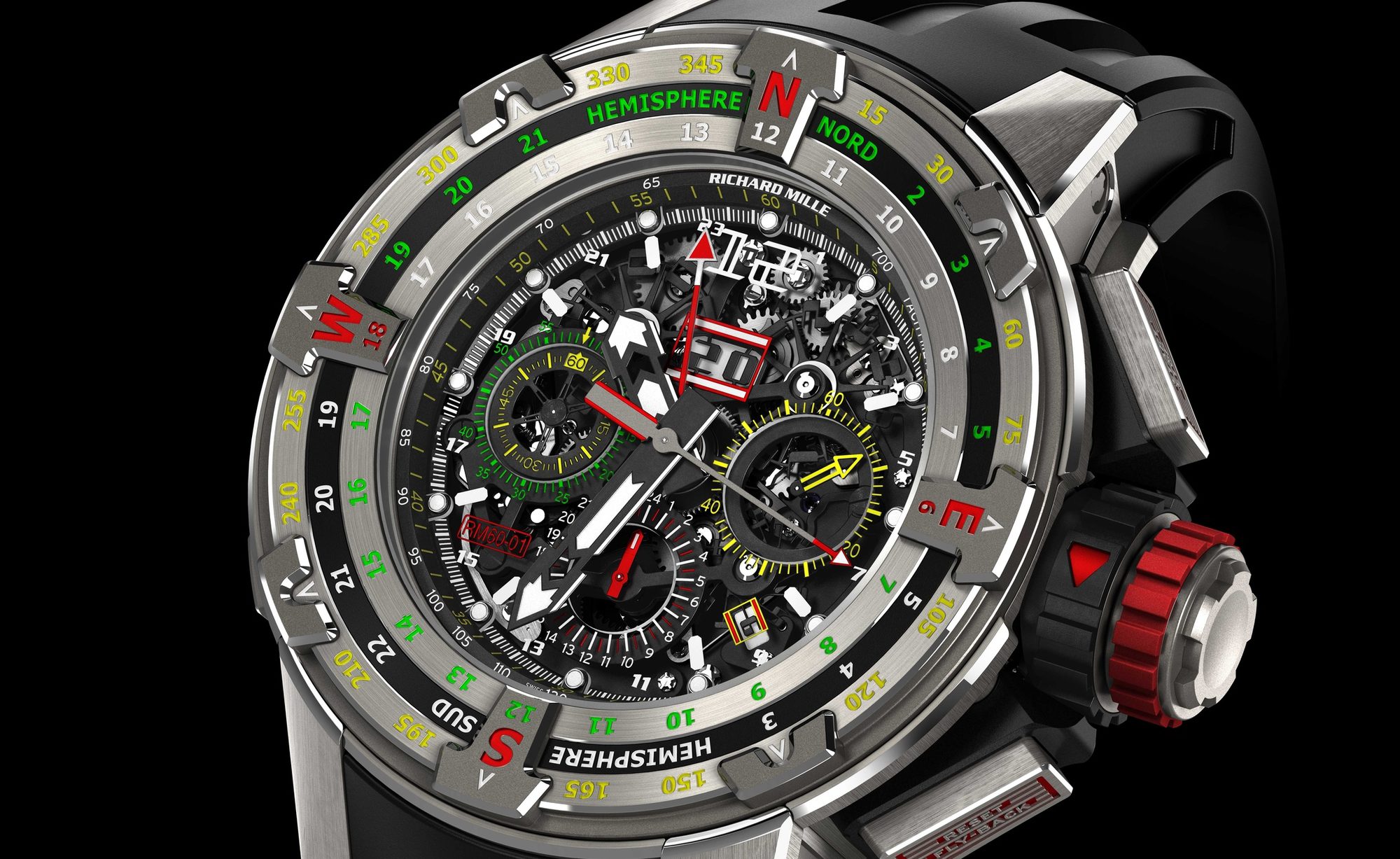 The RM 60-01 mounts the Caliber RMAC2, a self-winding flyback chronograph movement offering a 50-hour power reserve and a variable oscillating rotor design exclusive to Richard Mille, that can be adjusted in six different positions, customizing the rotor's inertia to allow for best charging for different activity levels.
Audemars Piguet
Drake is a Royal Oak fan and has at least four references of the Genta-designed masterpiece.
The first is a Royal Oak in Rose Gold, with a dark blue dial and a matching leather wristband. It is a stylish and almost understated reference, considering the others of his watch arsenal. The dark blue "grande tapisserie" dial with rose gold hands and index hour markers is perfectly legible, and this timepiece for sure looks awesome, even without the matching gold bracelet, a feature which makes it a bit more wearable. 

Another model is an iced Royal Oak Offshore Chronographer, adorned with 276 diamonds, which make for a serious bling effect, and worn on a leather wristband as well. Its wide, 44mm case is crafted from 18K white gold entirely set with baguette-cut diamonds, and it features a 50-meter water resistance. This luxurious timepiece runs on an automatic AP3126/3840 caliber, made of 365 parts and 59 jewels, which beats at a frequency of 21,600 vibrations per hour and features a 50-hour power reserve. The movement is visible through the see-through sapphire crystal back.
Then, he owns also two tourbillons - a Royal Oak Tourbillon in Rose Gold, a limited edition of 25 pieces with a gold dial and bracelet, while the other is a Royal Oak Offshore Chrono, another limited edition of 50 pieces with an imposing 44mm black forged carbon case and a fixed black ceramic bezel. The dial is also black in color with a "Méga Tapisserie" pattern, black counters, gold applied hour-markers and gold Royal Oak hands with luminescent coating. It is worn on a black rubber wristband, and it is water-resistant to 100 meters. All for a cool $270,000.
Hublot
At the beginning of his career, Drake impressed the watch digerati by his choice of watches. When he was touring with Lil Wayne and the Young Money Entertainment crew, Drake proudly displayed a Big Bang in Rose Gold watch - which was something quite different from the sort of bling the other rappers were displaying.
A large, 44 mm watch, the Big Bang comes in different flavors for everyone to find his style, from the most understated to the most flamboyant, and it represents the "art of fusion" which the watchmaker is famous for. The watch offers a complex case with a flat AR-coated sapphire crystal and a ceramic bezel. The timepiece is also water-resistant to 100m, so it allows for casual marine activity. The Hublot Big Bang 44 hosts the HUB4100 caliber, which is a (heavily) modified ETA movement, so it still is the object of criticisms from watch purists.
Patek Philippe
Drake the watch aficionado could not escape the lure of one of the most iconic watches of the world, the Nautilus, and he does it in style, with the Perpetual Calendar model.
The reference in question is like a small miracle in watchmaking. It is the first Grand Complication in the Patek Philippe Nautilus collection, and it represents the watchmakers thinnest calendar watch, with its 8.4 mm of thickness.
This magnificent white-gold watch is powered by a self-winding caliber 240 Q movement, which can be admired through its sapphire-crystal back. This excellent timepiece also sports an adequate list price - something around the $200,000 mark. 

Rolex
The Rolex collection of Drake is also noteworthy and extensive.
He owns several Rolex Daytonas, including a charming Everose gold model, a white gold one and a diamond one.
He also owns a Daytona ref. 116528 with the so-called Paul Newman style tribute dial, featuring a black background, three registers in gold, and red outer minute track.
It is said that Rolex has released this specific dial in honor of the actor that made this Rolex model so popular, but of course, no official confirmation came out from the watchmaker.
Just as a note, however, the reference number for this model is 116528 PNBK. And look at the letters.
Drake has also displayed publicly a "modded" Rolex GMT-Master II model.
The ref. 116758SANR in 18k yellow gold version of the iconic Rolex twin timezone watch has been upgraded with a decoration of diamonds and black sapphires on the bezel and the case. The precious gems are set in the bezel to mark the hours, including the triangle at 12 o'clock, and the diamonds also go forward to decorate the lugs.
Another important timepiece in his Rolex arsenal is his 18k Everose rose gold Sky-Dweller ref. 326935 with a gray dial, making a soothing and elegant color combination. The Sky-Dweller is one of the most complicated Rolex models, featuring an annual calendar function in addition to the twin timezone mechanism, giving this timepiece a no-nonsense appeal, directed to a wearer who needs to be always spot-on with his timekeeping, and in perfect style as well.

A less popular Rolex model - at least today - which Drake seems to appreciate much is the Day-Date, the quintessential Rolex watch of the Fifties that through its use by a couple of US Presidents like Eisenhower and Lyndon Johnson - apart from the current POTUS Donald Trump - became known as the Rolex President. Drake owns a series of Day-Date II's, including models in yellow gold, white gold, and Everose gold, and he has also a yellow gold Day-Date with a diamond bezel, which got featured at his wrist on the covers of the USA and UK editions of GQ magazine in 2013.
Another Rolex model he has been spotted wearing is the Yellow Gold Yachtmaster II. This timepiece was released in 2007, which has a much larger, bolder case size compared to the original Yacht-Master: 44 mm, and tucks inside one of the most exquisite complications made by the house of the Crown.
The bezel of this timepiece commands the regatta timer, which can be programmed for a countdown of 1-10 minutes, allowing skippers to accurately record the time before the start of a competition. More, the watch mounts a fly-back and "fly-forward" chronograph. We do not know if Drake uses it for its intended purpose, but it looks extremely cool at the wrist even if he doesn't.